@Jackoplane claims to have successfully ported Siri to the iPhone 4. The big difference to the releases we have seen before is that he was able to get Siri to connect to Apple's servers. There is no proof of his port yet, but he promised to upload a video very soon. Stay tuned for updates.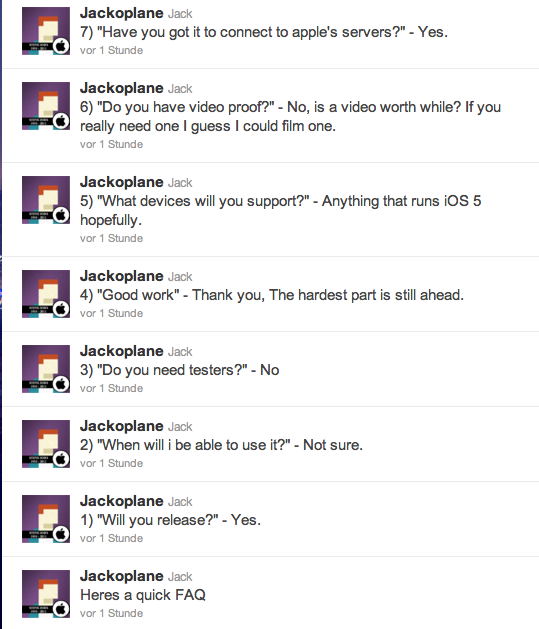 Heres a quick FAQ
1) "Will you release" . Yes.
2) "When will i be able to use it?" - Not sure.
3) "Do you need testers?" - No.
4) "Good work" - Thank you, The hardest part is still ahead.
5) "What devices will you support?" - Anything that runs iOS 5 hopefully.
6) "Do you have video proof?" - No, is a video worth while? If you really need one I guess I could film one.
7) "Have you got it to connect to apple's server?" - Yes.
- Jackoplane
*Update*
It looks like the port is fully done, but they still have to deal with legal issues. @Jackoplane still didn't release his video, but he is now working with @joshmtucker from ModMyi who confirmed that the port is real.

"@st1llers We have to deal with legal issue, it's 100% done." - Jackoplane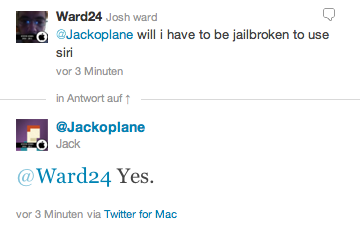 "@Jackoplane will i have to be jailbroken to use siri" - Ward24

"@Ward24 Yes." - Jackoplane
Follow us on Twitter of Like our Facebook page to get the latest news from our site:
@SiriHacks folgen
Share this article