Share
The easiest way to activate Siri on your iPhone is to hold down the home button for two seconds. But what if your Home Button doesn't work properly anymore, or you simply want to activate Siri with a single Tap? Then SiriLaunch is a tweak for you.
SiriLaunch adds a Siri Logo to the bottom of your Notification Center. The position of the logo is adjustable in the settings. So all you need to do to activate Siri is swiping down to get to the Notification Center and tap the Siri icon.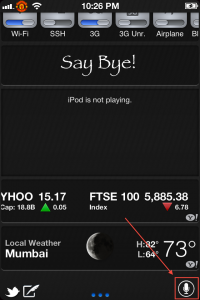 Of course there are other ways to activate Siri without pressing the Home Button. You could also hold your iPhone up to your ear and Siri will start listening. But this may not always be an option, for instance if you are in your car and the iPhone is in your docking station.
Another great way of activating Siri is by using Hands-Free control. Hands-Free control activates Siri as soon as you say the trigger word/phrase (default: Siri). Hands-Free control works great most of the time, but it can sometimes activate Siri by accident if something sounded like your trigger word. (Also keep in mind that Hands-Free control will use some CPU power while running in the background, so your battery will drain faster!).
You can check out the tweak in action below:
Let me know what you guys think about SiriLaunch in the comments section below or at  #sirihacks.
If you found this post useful hit the +1 (recommend) button.
Follow us on Twitter of Like our Facebook page to get the latest news from our site:
@SiriHacks folgen
Share this article