Share
A few months back we learned how to make Siri conversations on the internet which you could save and upload. But the sad part was that Siri was not able to speak out those conversations. And if someone asked "Hey the picture you uploaded was awesome! Can I do that with Siri as well?" you would have had to tell them that it's not a real Siri screenshot. Until now.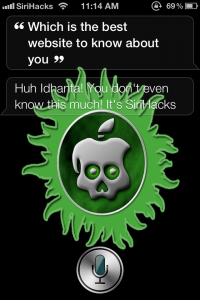 So today I bring you a post which will tell you a very easy way to make your own custom Siri conversations (which Siri speaks).
First you need to install AssistantExtensions
SSH into your iPhone
Root > Library > AssitantExtensions > aiml
Open text editor, then type the xml code (refer other aiml files to get an idea of how to write the xml)
Save the document as a .aiml
Drag it to where the other .aiml files are in the FTP client
Start Siri on your iPhone 4S
Say "Late's chat"
After she is done "loading her brain", you can ask her the question you typed in and you will surely get the reply back
To end the conversation say "Goodbye"
You can see the video below to get an idea of how this works:
Let me know if you got stuck up some where.
If you found this post useful hit the +1 (recommend) button.
Follow us on Twitter of Like our Facebook page to get the latest news from our site:
@SiriHacks folgen
Share this article