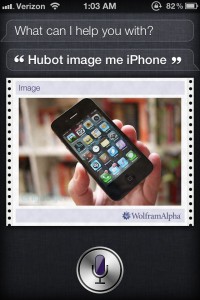 In the past few weeks, we covered a lot of Tips and Tricks on how to improve Siri. But most of these Tricks are just workarounds and they won't allow you to do anything fancy such as opening apps or toggle your WiFi settings with your voice.
Hacker Aman Gupta (@tmm1) is now working on a way to add custom commands to Siri: hubotsiri.
Here's how it works: All requests from Siri are redirected through a proxy. The proxy server and hubotsiri can then intercept Apples responses and add custom responses. Currently, it does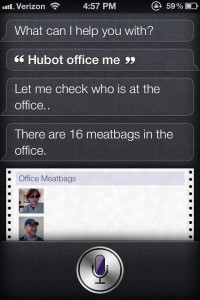 not require a jailbreak of your iPhone 4S, but you have to set up a proxy. Because your iPhone 4S does not have to be jailbroken, the custom commands are currently very limited. As we can see in the images you can add custom queries and get a nicely formatted answer. But you can't open apps or interact with the Phone in any other way (eg. send a message to Twitter). Once a public jailbreak is available, the processing done with hubotsiri on the proxy server can probably be integrated into the iPhone. Custom Commands would then also allow you to open apps or websites, Toggle Bluetooth or WiFi settings and many other things.
hubotsiri is currently not available to the public, but it might get released soon as it does not require a jailbreak of the iPhone 4S.
via @tmm1
Follow us on Twitter of Like our Facebook page to get the latest news from our site:
@SiriHacks folgen
Share this article