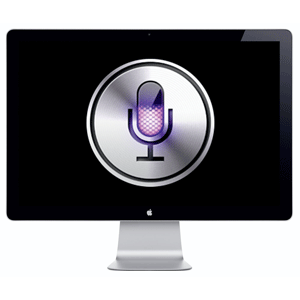 It looks like Apple is working on a Siri-Enabled television. Nick Bilton of the New York Times quotes anonymous sources saying that the Apple television is a "guaranteed product for Apple" because "Steve thinks the industry is totally broken". We already learned from Steve Jobs' biography that Apple might build a television.
Jobs said their television "will have the simplest user interface you could imagine". With Siri, Apple has found that perfect interface. You don't have to worry about losing your remote control anymore, just tell your television what you want to do.
It's the stuff of science fiction. You sit on your couch and rather than fumble with several remotes or use hand gestures, you simply talk: "Put on the last episode of Gossip Girl." "Play the local news headlines." "Play some Coldplay music videos." Siri does the rest.

Of course this experience goes beyond just playing TV shows or the local news. As the line between television programming and Web content continues to erode, a Siri-powered television would become more necessary. You aren't going to want to flip through file folders or baskets of content, checking off what you want. Telling Siri to "play videos of cute cats falling asleep" would return an endless YouTube stream of adorable napping fur balls.
If the hackers manage to port Siri over to the iPhone 4, we might also see Siri being ported to the Apple TV, which could bring us the features of Apple's future television to our TVs right now.
via NewYorkTimes
Follow us on Twitter of Like our Facebook page to get the latest news from our site:
@SiriHacks folgen
Share this article